Are you already excited about this year's Black Friday? We couldn't wait for it, too! There are many reasons to shop online this November as tons of things are already on sale and waiting for you to discover them. If you're looking for some stuff to give a new lease of life to your outfit, we'll help you with our top ten advice on how to find the best accessories on sale this month. Many of them are suitable for a gift as well!
10. Luxury Divas Polar Fleece 3 Piece Hat, Scarf & Glove Matching Set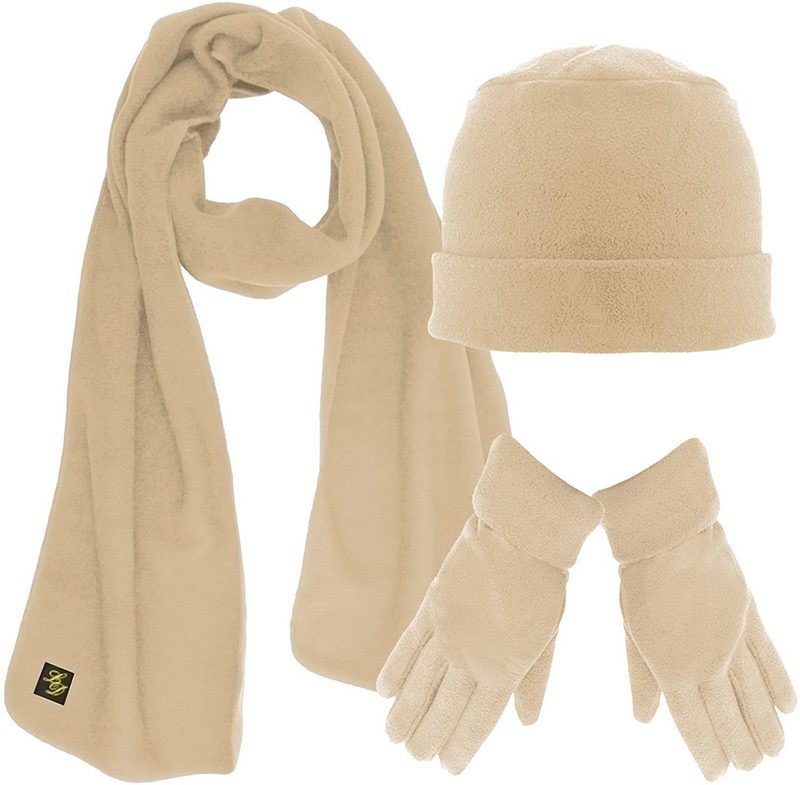 Black Friday always comes right before winter and snowy days. Is there any better timing to get yourself a fashionable pair of gloves, a hat, and a scarf? Imagine getting all of them at once, in a matching color and material! We suggest a set that will prepare you for the freezing temperatures!
As you can clearly see, these gloves, scarf, and hat look so warm that they'll be worth the $14.99 you'd spend on them at Walmart. Since we've just kicked off this list with something absolutely affordable, get ready for more fancy pieces as you're discovering the catalog!
9. Prada PR01OS Sunglasses-Gray Gradient Lens Black (1AB3M1)-55mm
The forthcoming season doesn't seem to be the right timing for wearing sunglasses. However, they're actually cheaper right now, so it's the perfect moment to get them! There are many good deals like this for Black Friday.
If you ever wanted to get a stylish accessory from Prada luxury brand, check these chic, black sunglasses at Amazon, this time for only $136.90. Black Friday is already showing its magic on Amazon, so we're sure you'll find something nice for yourself!
8. Michael Kors Whitney Large Shoulder Bag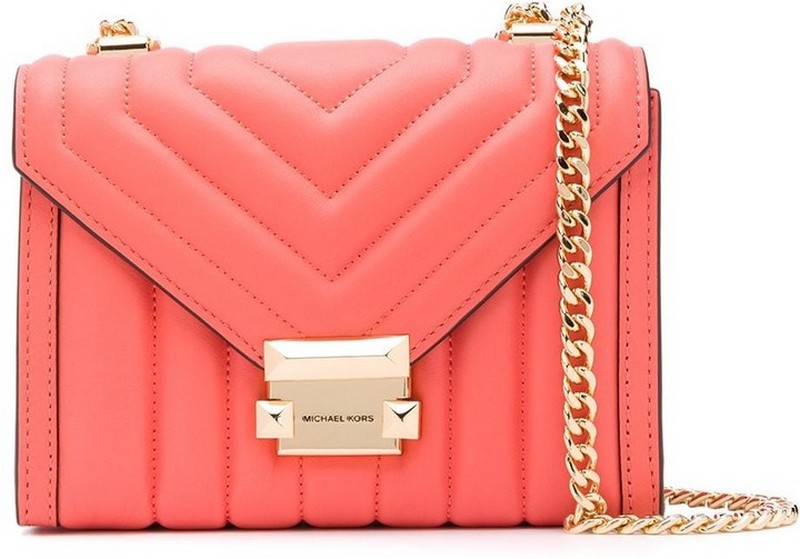 When it comes to bags (yellow is all the rage this season!), they can either make your look extravagant or completely ruin the whole image. That's why it's very important to find the right bag to correspond to your style. Moreover, maybe you've never tried any coral pieces, even though they've been the biggest trend in the fashion industry in recent years.
Are you looking for a bag this Black Friday? You should consider buying a coral shoulder bag by Michael Kors because it's going to spice up your every look. You can get this bag at Farfetch for $220.86, which is actually a good sale price for such a quality.
7. EFFY Diamond Butterfly Statement Ring in 14k Gold
Some Macy's accessories are so expensive you'd never think about getting them. Nevertheless, Black Friday does some magic, and boom – a diamond ring suddenly can find a place on your hand much easier! There are plenty of rings on sale, so you should check the offer and discover a perfect one for yourself.
The piece that stands out right away is this butterfly-shaped ring. It's very delicate, with tiny details that will impress you. Spread your wings, and if you're lucky, you'll buy this ring for only $809, although its regular price is $3,000! Check out some other flower and butterfly-shaped rings and find a perfect one for yourself.
6. Oussum Embroidered Long Fashion Evening Scarf for Women
Before we get further into a bit more extravagant pieces, we'll show you these exquisite scarves on sale. They are embroidered and so long that they will keep you warm this winter. They could also be a trendy gift for vintage, artsy girls that love the floral print.
Believe it or not, but you can get this scarf for only $15.99 at Walmart! It comes in six colors, but the gray one is definitely the trendiest, as it sparkles like silver. However, black and sky / royal blue is also a good catch – why don't you buy two?
5. Roberto Cavalli Women's Swiss Quartz Blue Calfskin Leather Strap Watch, 38mm
It might not be your usual habit to buy accessories at Macy's. However, why wouldn't you treat yourself this Black Friday? It's a perfect chance to get, for example, a watch that normally isn't considered affordable. Right now, there are many fancy watches with somewhat more reasonable prices.
This year, Macy's chose Roberto Cavalli's watches for the Black Friday sale. If you're up to buying this wonderful royal blue one, check it out for around $500-600! You can also find another watch from this category at Macy's. Which one is your favorite?
4. Frame Braided O-Buckle Double Wrap Leather Belt
One of the most eye-catching accessories is always a stylish belt around your waist. Moreover, it's only about making you feel comfortable. It can also suddenly turn a boring dress into a fabulous one! If you're about to discover some pretty belts for a gift or for yourself, we have a suggestion.
SaksFifthAvenue has a special offer for this Black Friday, and it has some of the most attractive accessories we've seen. Among them, there is also this leather belt that will catch people's eyes wherever you're going! Furthermore, it costs only $147.00.
3. Jimmy Choo Ladies French Purse Wallet Stars White/Silver Nemo FrenchStar
A wallet is always a perfect gift for a lady, but you must find a quality manufacturer. Jimmy Choo is a perfect example for a real high-grade brand, but not a too expensive one. When it comes to their accessories, we recommend you a stunning wallet covered with stars on both sides!
Gold and silver stars look so trendy on the subtle white or silver-tone of the wallet. If you already fell in love with this piece, we have good news because it's on Black Friday sale, and you can buy it at Walmart for $270.59!
2. Pompeii3 Blue Sapphire & Diamond Heart Pendant 14 KT White Gold with 18" Chain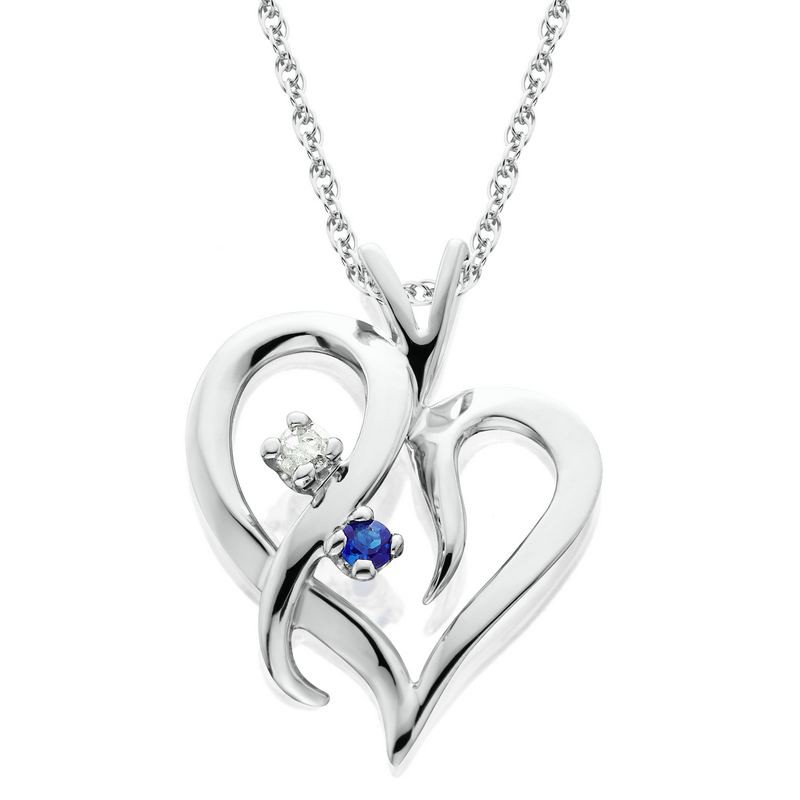 Is there a prettier gift than a beautiful pendant to decorate someone's chain? Pendants come in many sizes and shapes, but it's the finest when it's subtle and ladylike. If you're looking for a piece of jewelry like this, you should immediately check out this valuable diamond heart!
What makes this heart-shaped locket precious is its asymmetrical form. Like a cherry on top, it's even accompanied by a teeny sapphire! The pendant is available at Target, and it's on sale, of course. Save $309.98 and buy it for only $189.99 this Black Friday.
1. Roberto Cavalli HXLPDL 001 Grey Shoulder Bag
Cavalli is one of the most beloved Italian designers worldwide, and his work is considered exotic and extraordinary. However, his best pieces are very expensive, and because of that, you might not be able to buy them anytime.
It's a bit too much, but you only live once, and Black Friday is the perfect holiday to finally buy that bag you always wished you had. With this one from Roberto Cavalli, your outfit will get a rich and tasteful vibe. You can buy this bag at Walmart for $229.12, which is almost $300 cheaper than usual!
Now that you've read our top ten list, feel free to spend all your pennies on these stunning pieces that will spice up your look! Every good outfit needs accessories that will define your personal style.
Are you going to buy anything from this list around the 27th of November?
---
Similar Articles