Beer has a really long history, as the beer recipe is the first recorded recipe in the world. Around 5000 BC, old Egyptians have written about this process on papyrus. Every civilization had its own beer recipe since this was probably a favorite drink of your ancestors as well. However, in the modern world, beer has a new meaning. This is a favorite drink to chill out with your friends or watch sports while being great for beginners. Lately, there have been many craft beers with all sorts of flavors made in small breweries. Sometimes the taste can be, how should we say, quite odd and vicious, which inspired us to create our top ten strangest beers in the world list. If you are ready for even more, check out some weird drinks that will test your bravery!
10. Gimme Some Venom!
Produced in Scotland by Brewmeister brewery, Snake Venom beer is not here because it contains venom. However, it is the strongest beer globally, so it is appropriate for a place on this list. The beer includes 67.5% of alcohol, which makes it stronger than many hard liquors.
This strong amber ale has a hint of cherry and apple flavor besides alcohol. On account of being the strongest beer, it comes with a warning label. It's recommended that you don't drink too much, so make sure to share it with a few friends.
9. Hot and Spicy! 
Twisted Pine brewery from Boulder, Colorado, has produced Ghost Face Killah. Although this is a light beer with 5.2% alcohol, it might cause your blood to boil. This ale is brewed with jalapeno, habanero, serrano, Fresno, Anaheim peppers, and ghost pepper – the world's spiciest one.
Here's one more spicy beer - Stone Crime Chili Beer by Stone Brewing from Escondido, California. This piquant ale adds fresh red and green jalapenos, Caribbean red hots, black nagas, Moruga scorpions, and fatalii peppers.
 8. Piece of Space in Your Glass, Why Not?
Suppose you wish to know what a faraway galaxy might taste like. In that case, you might wanna try out Celeste Jewel by Dogfish Head, Milton, Delaware. Beer made from meteorite dust is available only in cozies made from the same materials as astronaut suits. Of course, this was a limited edition, served exclusively in the company's Rehoboth Beach pub.
The second "galaxy" beer, Sapporo Space Barley, is made by Sapporo Breweries Limited. Since it was brewed from the fourth-generation "space barley" from the International Space Stations, this limited edition had 250 six-packs, and all the profit went to a charity that supports science.
 7. Up for an Old One?
The discovery of 45 million-year-old yeast DNA in fossilized amber led to brewing the Fossil Fuels Brewing Co., produced by Schubros Brewing in Northern California. Microbiologist Dr. Raul Cano excavated the yeast back in 1995, and afterward, he teamed up with some brewmasters and started brewing pale ale and German wheat beer. 
However, old yeast cannot absorb all kinds of sugar like modern ones. Therefore it has a unique taste, highly appreciated by beer lovers and critics.
6. Beer and Beard, hmmm?
Yeast could come from a variety of strange places. One of the beers produced from weird yeast is Rogue Ale Beard beer brewed by Rogue Ales of Newport, Oregon. 
It all started as a joke about how master brewer John Maier's beard is the perfect place to grow yeast. However, the joke led to producing a beer with yeast cultivated from John's beard. This wild ale tastes a bit like pineapple.
5. Beer and Pizza Sounds Perfect, Doesn't It?
Mama Mia! Pizza beer made by Campton Township, IL, Tom and Athena Seefurth homemade brewery was introduced in 2006. Firstly they put the margherita pizza in the pot before including garlic, tomato, oregano, and basil. After that, hops and spices are added, and voila, pizza beer is prepared!
Meanwhile, in Norway, Evil Twin and popular brewery Lervig Aktiebryggeri have made beer using frozen pizza and real Norwegian money. As a result, Big Ass Money Stout was created. The beer has a rich chocolate and coffee flavor.
4. Fancy Some Pig's Head?
OK, we all know that beer goes perfectly with a barbecue, but what do you think about beer with a pork taste? Apparently, someone thinks that is an excellent idea as we have a few options for this beer taste. For example, Rogue Ales, based in Newport, Oregon, created Bacon Maple Ale. This beer has been made using several ingredients, including applewood-smoked bacon and maple syrup.
Also, we have a beer made by Right Brain Brewery from Traverse City, Michigan, called The Mangalitsa Pig Porter. During this beer's fermentation, brewers use four pigs' heads (without brains) plus three bags of bones. According to the brewers and the consumers, both have a smoked taste.
3. How About Tasting Testicles?
Would you rather have whale or bull testicle beer? Let's start with whale testicle beer, called Hvalur 2 by Stedji Brewery, Iceland. Brewing this beer is a bit weird since the flavor comes from the whale testicles smoked in sheep dung. However, it uses pure Icelandic spring water. To conclude, shit, testicles, and water make a perfect Hvalur 2 beer.
Bull testicle beer Rocky Mountain Oyster Stout is produced by Wynkoop Brewing Company, Denver, Colorado. It all started as an April fool's joke, but the company made it into an actual beer since it got a lot of attention. The beer is brewed with sliced and roasted bull testicles, and it has flavors of chocolate, espresso, and nuts.
2. Could We Offer You Some Pee?
OK, let's start with the Full Circle IPA because it's less disgusting. Stone Brewing from San Diego is making a beer from safe but recycled wastewater. However, just the thought of drinking toilet water makes us puke, even though it has a caramel flavor with hints of tropical fruit. This is not the only one of the wastewater beers, as there are quite a few of them on the market.
And now, hold on tight, as we are going to Denmark and introducing you to Pisner! During the Rockslide music festival in 2015, over 50000 gallons of pee were collected and used to make Pisner beer. We might be beer lovers, but this one we'll surely skip. 
 1. Someone up for Poop Beer?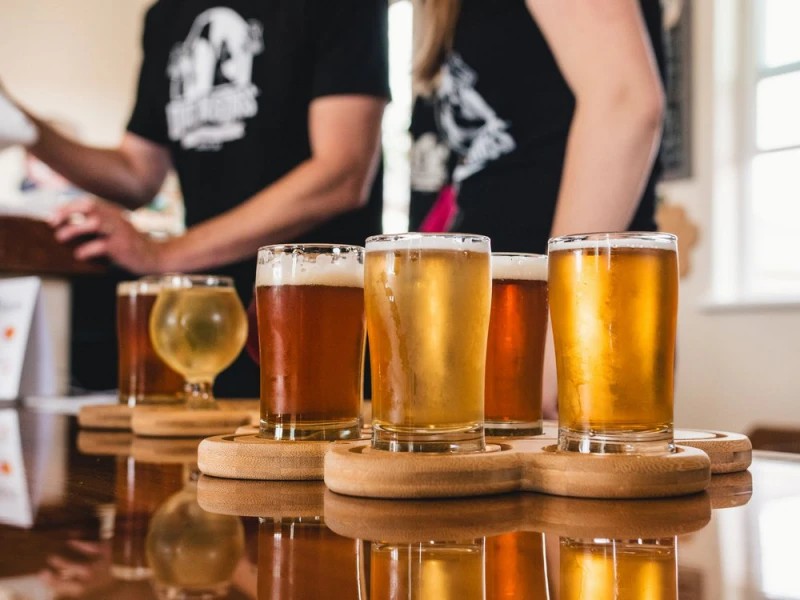 OK, we had a lot on this list, but this one easily comes on top. After all, pee and poop are naturally connected! However, it's not actually poop, but coffee made from coffee beans, eaten by Thai elephants, then digested and pooped out. Afterward, the beans are made into the coffee and brewed into the Un Kono Kuro by the Japanese brewery Sankt Gallen.
Lucky ones who had the chance to taste it say it was delicious and has a strong coffee taste. It looks like people enjoy drinking poop because this limited edition has been sold out in just a few minutes.
As you can see, the sky's the limit regarding beer flavors! Nevertheless, craft beers have their admirers, as this is a whole new thriving market. It seems that the brewers have fully opened their minds to all possibilities and are enjoying mixing all sorts of different flavors. This is OK, as long as there is a market for it. 
Have you tried any beer ending up on our top ten list? What's the strangest beer taste that you had? Feel free to write it in the comment section.
Photo and video: usplash.com, pixabay.com, youtube.com
---
MikeLevy

Says:

Maybe I would even enjoy that pizza beer :)
Danica

Says:

I'm sure they all taste better than expected :)
Shaun Blackwood

Says:

I don't feel like I'll ever want to try any of these :) I barely drink a couple of beers every year. I just don't like it!
Similar Articles