This time we are taking you to Vienna, the capital of Austria. The beautiful city on the Danube banks has a rich history from the Habsburg Monarchy days. The location is full of sights to see, so it's a museum in the open, not unlike Madrid or Paris. As a result, strolling the streets could be all the fun you'll need. However, if you have a couple of days to explore, these are the best things to do in Vienna. We're hoping that our top ten list will help you be efficient in your sightseeing tour. Hope you'll enjoy it! 
10. Firstly, a Bit of Culture - Museums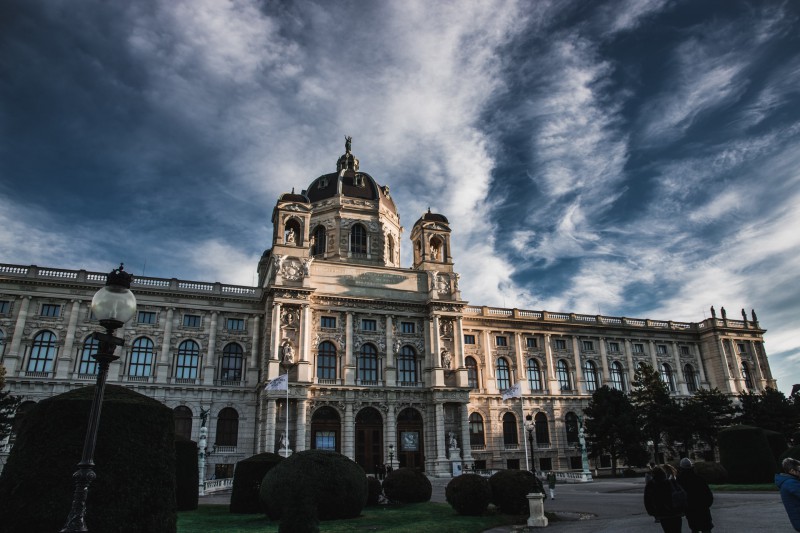 Like nearby Budapest, Vienna has a lot to offer to museum lovers, but we'll mention only a few of them. Let's start with the Museums Quartier, spreading over 90,000 square meters (almost a million square feet) next to the Royal Palace. Commonly known as MQ, this is a place where high culture meets subcultures and historic architecture clashes with contemporary design. Most popular at MQ are the Leopold Museum and MUMOK, featuring an extensive modern art collection.
Located in Hofburg - Sisi Museum is dedicated to the Empresses Sisi. The museum shows the dresses and everyday stuff that once belonged to her. The exhibition's second part are the Imperial Apartments, fully furnished as they were when Sisi lived there. Finally, you can look at the Silver Collection for an insight into the courtly dining culture back then.  
9. The Donauturm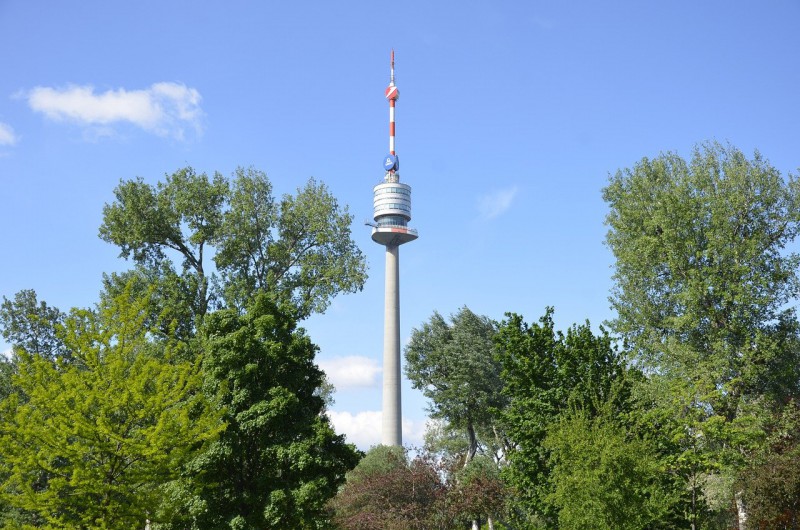 As the waltz by Johann Strauss II says, "An der schönen, blauen Donau" – "On the Beautiful Blue Danube," this river is Vienna's most impressive natural beauty. The Danube is a bit further from the city center, but one of its canals goes close to it.
Nevertheless, between the Danube River and Alte Danube (another river canal), you can find the Danube tower or Donauturm, Austria's tallest structure. On top of 827 feet (252 meters) tall Donauturm is a viewing platform and two revolving restaurants. It's a bit further from the city center, but the view is worth the trip.
8. Something to Eat!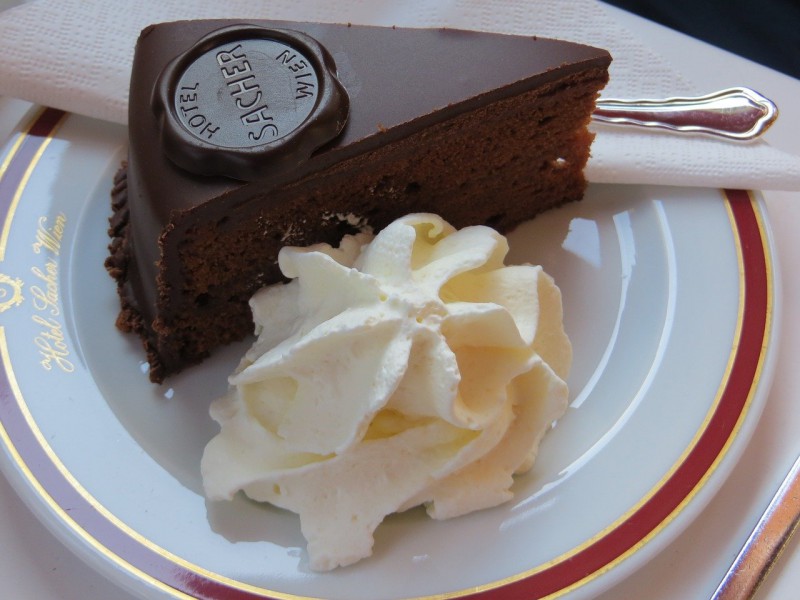 Vienna is known for its Wiener Wurst, delicious sausages you can buy from street vendors. If you wish to have a meal at the restaurant, try a Wiener schnitzel, a thin, breaded, pan-fried meat. This is a well-known specialty of the city and Austria's national dish. However, it has many variations, so while it's traditionally made using veal, you can find pork, chicken, and turkey versions.
If you crave something sweet, try a Sachertorte, a delicious chocolate cake that will inspire your return to Vienna. Best place to try it is right at the source, Hotel Sacher. This is where the cake was created in 1832.
7. It's Always Time for Shopping!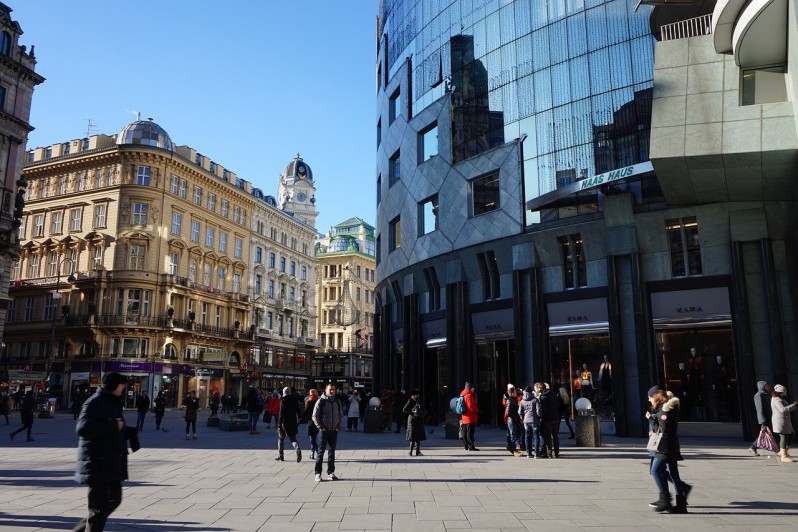 If you like shopping, Vienna will satisfy you. The city center is full of stores! The main shopping streets are Mariahilfer Straße and Kärntnerstrasse, although all the pedestrian streets are packed with shops. You'll find many things here, but mainly high fashion items.
If you wish to buy designer clothes at low prices, take a trip to the Designer Outlet Parndorf. It's about a 30 minutes ride from Vienna, but it's worth the trip. Here you'll find all you need in more than 140 shops. Tip: it's better to plan at least half a day to visit this location.
6. Magical Time at Christmas Market!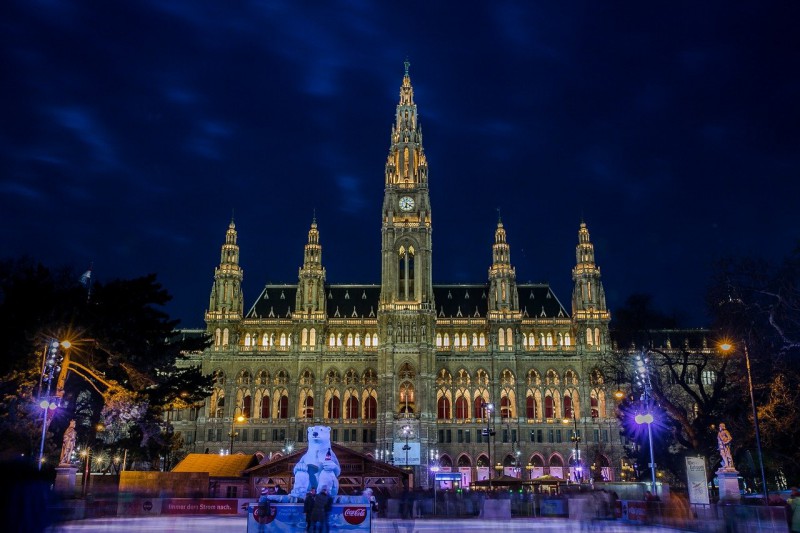 If you come to Vienna near Christmas, visit the Christmas Market, as it's incredibly charming. The festivities start in the second half of November and end the day after Christmas. During this time, the square in front of the City Hall becomes magical. 
All the Christmas lights are up with lots of music, and everyone's cheerful and happy, creating a truly magical experience. You can buy unique handcrafted Christmas decorations, try some delicious street food and taste wine, schnapps, or tea to warm you up.  
5. Belvedere Palace
This tale begins in the 18th century when Prince Eugene of Savoy, general at the Habsburg Monarchy, started building this beautiful baroque castle. Belvedere consists of two palaces, Upper and Lower Belvedere, and beautiful gardens in between. After Prince Eugen's death, Maria Theresa moved the Imperial Picture Gallery to Upper Belvedere and opened it to the public. Hence it became the first museum in the world. Throughout history, the castle partially changed its use but stayed a museum until the present time.
Belvedere museum has an impressive collection of artwork. Among them is the most extensive collection of Ferdinand Georg Waldmüller and Gustav Klimt, including the famous painting "The Kiss" by Klimt.
4. St. Stephan's Cathedral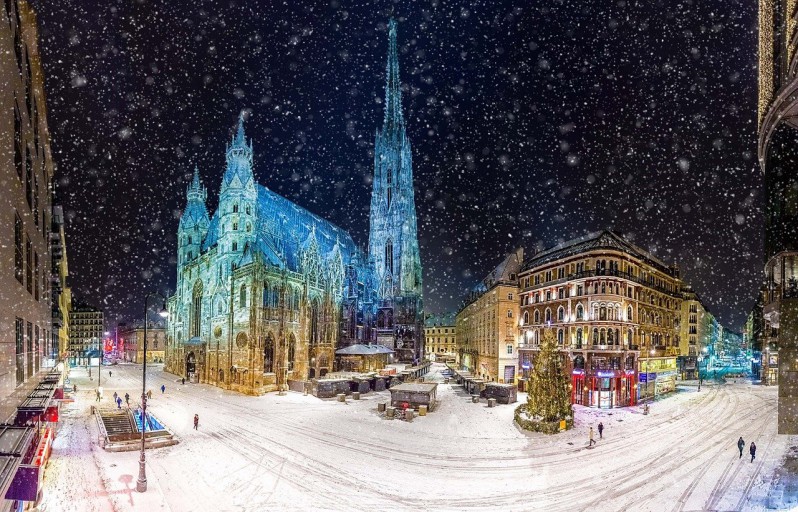 Most commonly known as Stephansdom and located in the city center, it dominates St Stephen's square or Stephansplatz. This beautiful Romanesque and Gothic cathedral was built back in the 12th century. The cathedral is exciting, but the catacombs and towers are the main tourist spots.  
Catacombs can be visited only with guided tours. You can see the bishop, royal tombs, and an eerie cemetery with bones under the cathedral. South tower is fascinating because it has a beautiful view of the city from 446 feet (136 meters). How impressive is Stephansdom? Let's say that six million people visit it every year! 
3. Have Some Fun at Prater!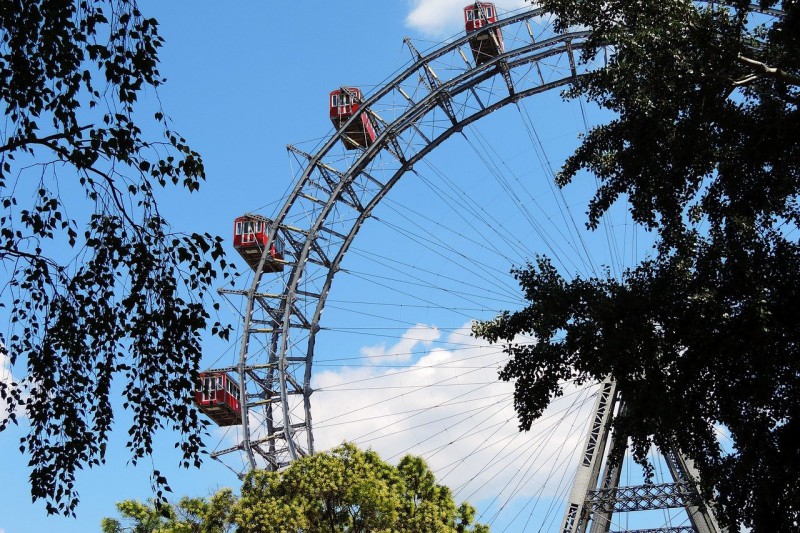 The amusement park is the home of the Wiener Riesenrad or the Giant Ferris Wheel - the most famous symbol of Vienna. However, if you love the thrill of roller coasters, we have to disappoint you as the Riesenrad is not about speed. This 19th-century legacy is must see in Vienna. 
The old wheel is 213 feet tall (65 meters), has eight wooden cabins, and you can watch Vienna's history while riding. Prater brings out the nostalgia in older visitors while still being fun to youngsters. Regardless of your age, you will enjoy visiting it and have a lot of fun. Just remember to avoid feeding pigeons!
2. Winter Royal Palace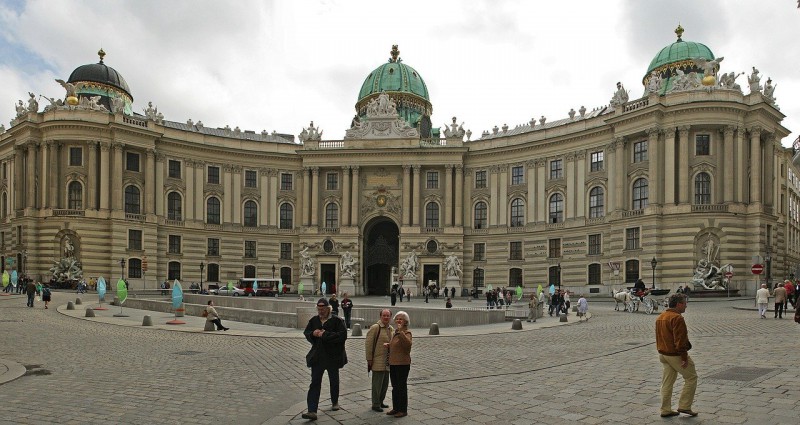 The famous Hofburg was built in the 13th century by the Habsburg dynasty, dominating the city's center. The imperial palace was a winter residence during the Habsburg reign and expanded several times. As a result, it's one of the world's largest palace complexes with nineteen courtyards and eighteen wings. Consequently, it is one of the most visited tourist places in Vienna.
Today this imperial palace is an official residence of the Austrian President and a home to the Sissy Museum, Imperial Apartments, and Silver Collection. The whole establishment is quite impressive, and if you wish to feel like a royal, grab a carriage ride in front of the palace entrance.
1. Schoenbrunn Palace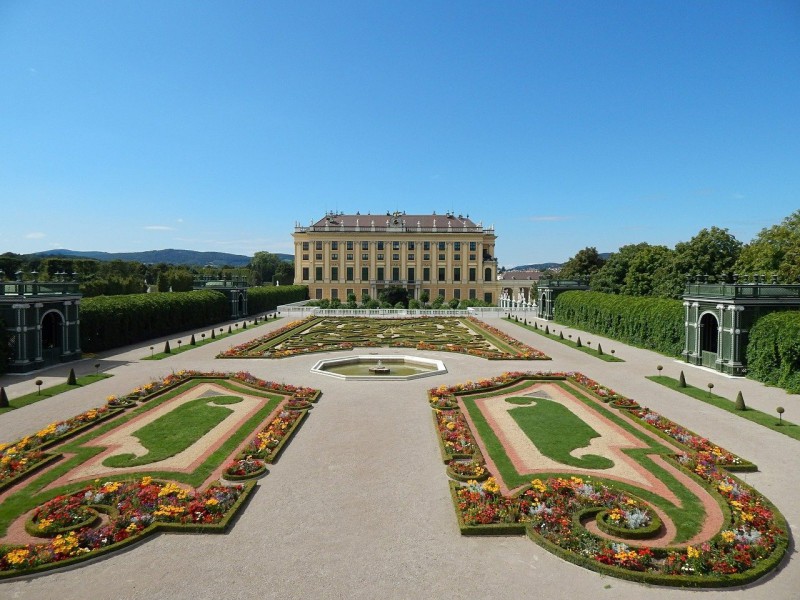 This beautiful palace was the official summer residence for the Habsburg emperors. The castle and its gardens are truly unique in their beauty. This is the most visited place in Austria and one of the world's most beautiful locations. The Schonbrunn Palace was built in the 18th century, and it has 1441 rooms, 45 of which are open to visitors. Exhibition rooms are furnished as they were while their famous residents lived there. 
Even though the palace is impressive, the baroque gardens are a story to themselves, featuring a Maze and Labyrinth, Zoo, Gloriette, and Palm House, among other things. Indeed, that's something you'll remember forever.
We've only scratched the surface of the most exciting stuff in this fabulous city, as the rest is for you to explore. Just one more note - if you are preparing for a trip during the winter, keep in mind that it can be pretty cold in Vienna. Therefore, wear something warm and comfortable! Hope you have enjoyed our top ten must-sees in the charming Vienna list and got some cool ideas for your next trip. 
Have you ever been to Vienna? What is your area of choice in the city? We'd like to hear your impressions, so please write them in the comment section.
---
Loyalrumble

Says:

There's so much to see here - I would recommend coming for at least a week to fully enjoy it.
Wayne C

Says:

I love central Europe - if you like Vienna, you'll love Budapest, Bruges and many other places in Germany, Belgium or France.
Similar Articles