One of the most beloved cuisines outside its country's borders is Thais. Deliciously spicy and rich with vegetables, it's simply hard to resist. Also, if you skip fried dishes, it's essentially healthy food! However, Thai cuisine varies greatly from one region to another since Thailand is a large country. They like their sticky rice and mild flavors in the north, while central areas have a more western influence with extra chicken and pork. However, in the north-east, you'll get the spiciest food, which is often raw. Finally, hot, sour, and salty is the taste of the south. Sounds interesting? So let's soak up the aromas of Thai cuisine in this top ten list. Later, you might wanna check out the best Thailand islands or the best of the continental part of Thailand to learn more about this wonderful country.
10. Desserts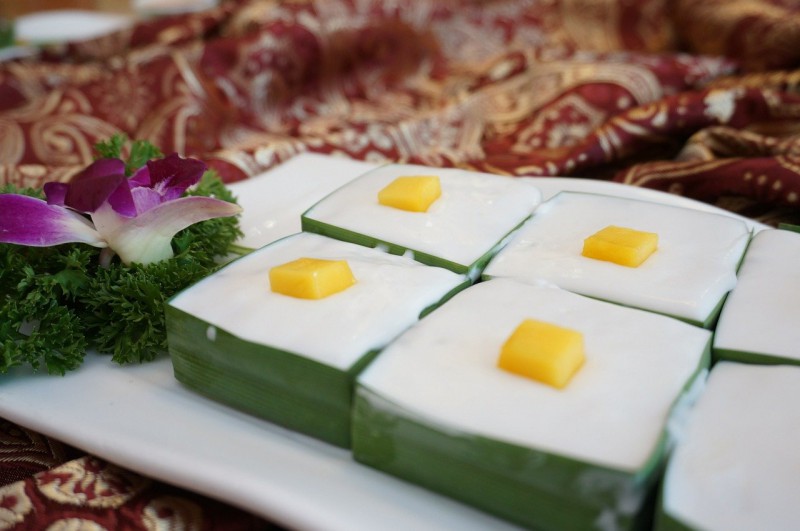 Just imagine creamy delights made with coconut milk, palm sugar, and rice flour since these are the main ingredients of Thai desserts. One of these perfect bites is sago pudding. The favorite Thai dessert is made with basic components and decorated with fresh fruit, making it energizing. So, forget about chocolate for a moment!
One other delight is Thai Golden Dessert Eggs. It entered Thai cuisine over three centuries ago, and since then, these creamy creations of yolk-based desserts gradually gained local acceptance. Now they're considered auspicious thanks to their names that usually begin with "thong" (translated means gold), and "thong" brings good luck. Therefore golden eggs are always present in ceremonies and celebrations.
9. Vegetarian Options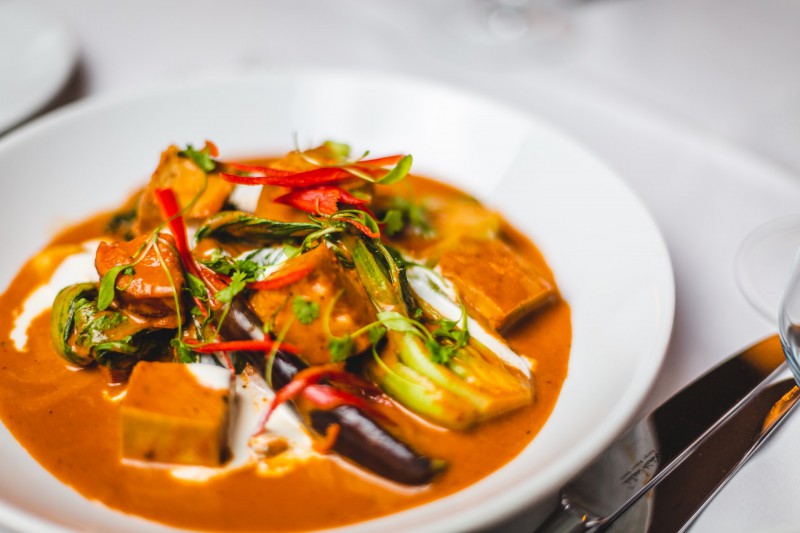 The basics of the rich flavor of Thai cuisine, as we mentioned, comes from various vegetables and spices, so all the delicious food from our list has vegetarian options. So let's check out the favorite ones!
The rich aroma of a stir-fried pumpkin dish or Pad Phuk Tong will put a satisfying smile on your face after the first bite. Want to eat something spicy, salty, sour, and crunchy at the same time, but perfectly blended in? Go with a Morning Glory (Pak Boong), since it's deliciously tasty and healthy as well.
8. Salads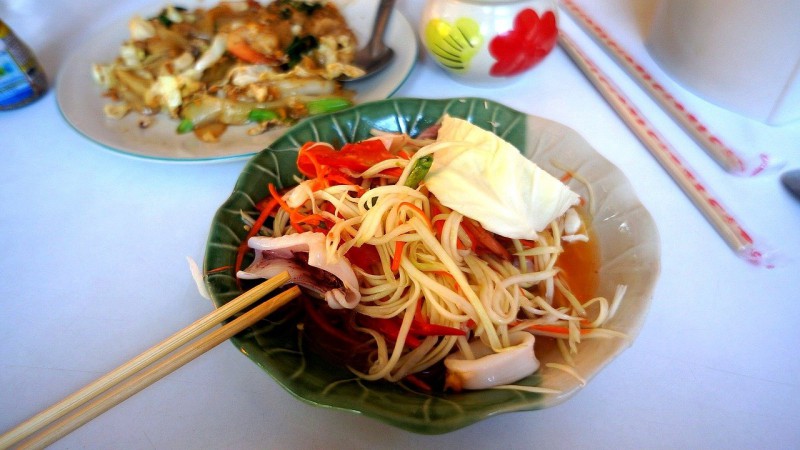 Since they're made with noodles, rice, seafood, and minced meat, Thai salads are different from what we used to and are considered full dishes, not entrees. Thai cuisine has various wonderful salads, but let's just stick with four basic types. Essentially, everything goes well with a Yam mixed salad. Every combination of vegetables, fruits, herbs, proteins, spices, and noodles makes it so tasty. Mix up dried shrimps, fish sauce, chilies, lime juice, garlic, and palm sugar as a base for delicious Tam salad, and add some proteins to spice up the aroma. 
Short cooked proteins and the dressing that includes fish sauce, onions, chilies, lime juice, sliced lemongrass, and mint enrich the fragrance of a Phla salad. The unique taste of the Lap salad comes from its main and most important ingredient - khao khua or ground dry roasted rice.
7. Drinks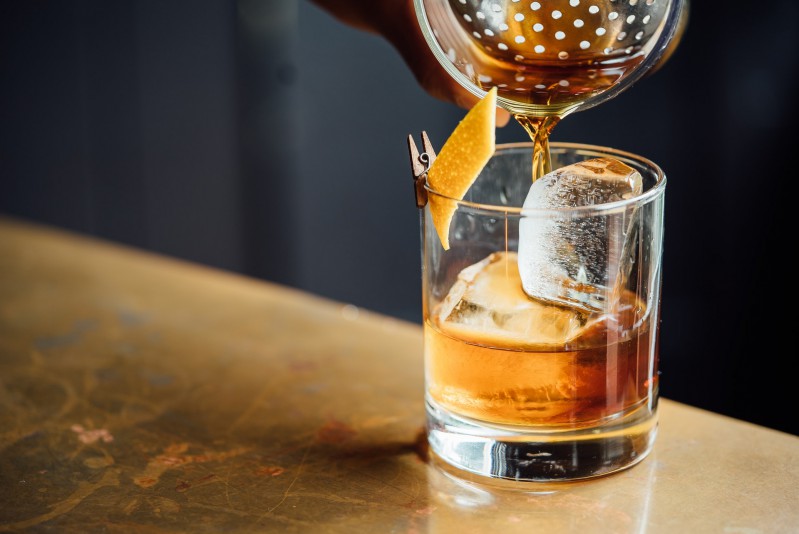 Thai people prefer their drinks refreshable, sweet, and, if possible, a bit creamy. That being said, it leads us to the most popular national drink - Thai tea or Cha Yen. Consuming it, either hot or cold, has the same revitalizing taste since it's made from green tea, sugar, and milk.
The most favorite among the kids is a delicious Nom Yen or iced milk with red or green syrup. Thai iced coffee or oliang is a bit like Americano but with a slight difference made by adding roasted rice and caramel to the coffee beans. As we mentioned, Thai people love their refreshing drink, but they also enjoy alcohol, including whiskey. However, there's a twist, as it's more like rum.
6. Thai Soups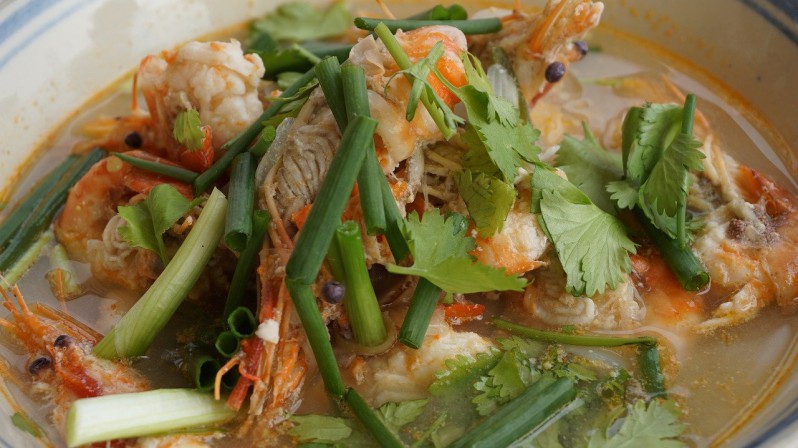 The rich and creamy taste of Thai soups will sweep you off your feet! If you find yourself in a Thai restaurant, order a big bowl of Tom Kha. Feel the fragrances of lemongrass, lime chilies, and kaffir, mixed with coconut milk and chicken, making it a perfect creamy delight.
If you really want to indulge in your senses, try Tom Yum soup, as it's also a popular choice. You'll love this old-school clear spicy herbal soup with fresh lime, chilies, and kaffir leaves. Moreover, perfectly balanced spices combined with shrimps made the Shrimp Tom Yum a delicacy you don't wanna miss.
5. Fried Dishes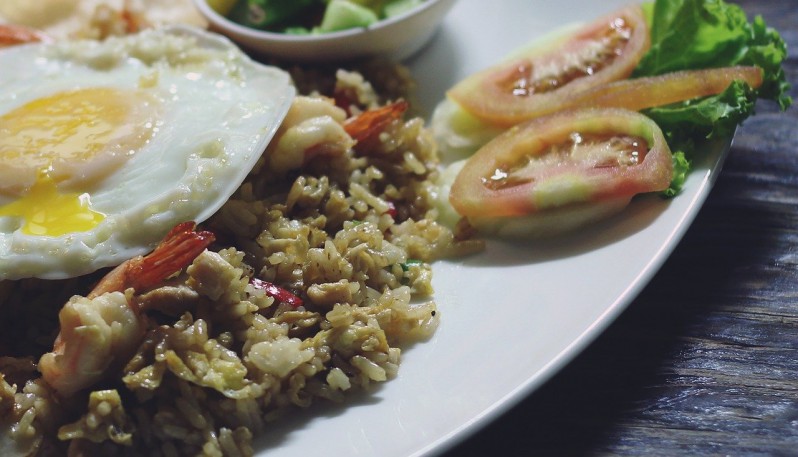 Whenever you wish for something tasty and fast and not necessarily healthy, just order some yummy fried food. Deliciously tasty Pad Kra Pao with a delightful aroma of basil combined with meat and served with rice is a fast-food fried pleasure. 
Perfectly seasoned Khao Pad is fried rice with a meat of your choice combined with vegetables like onions and tomatoes to create a lovely aroma. However, if you like your food spicy, try Pad Krapow. This fried minced meat with a peppery flavor is a very hot dish and an unforgettably tasty sensation.
4. Rice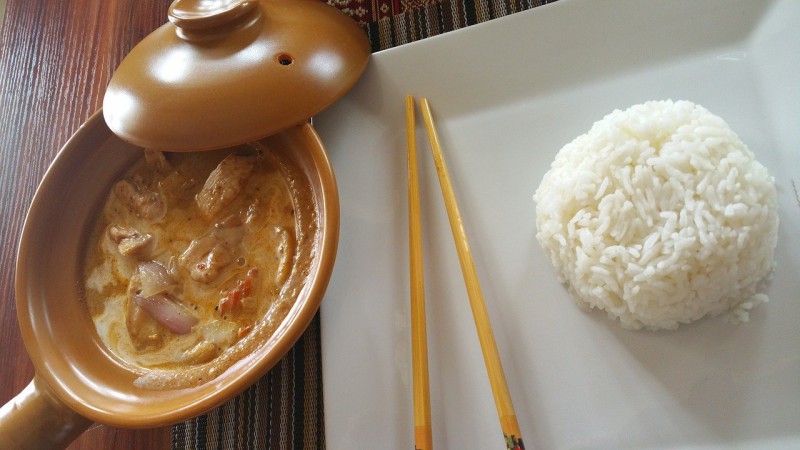 We're coming to rice as an essence of Thai cuisine, so beloved that they have a few basic types of it. Fragranced with a jasmine aroma is delicious jasmine rice, as the most commonly used one. Misty white short grains make the sticky rice type, as the stickiness comes from starch in it. Brown rice is whole grain rice rich in fibers and with a slightly crunchy texture. 
Besides the basic rice types, we have colored rice used to make delicious creamy desserts where vivid rice shades (yellow, green, and blue) add the picturesqueness of tasty delights. Discover the rice's simplicity in street food such as Khao Man Gai or chicken and rice, and Khao pad or fried rice with eggs and onions.
3. Massaman Curry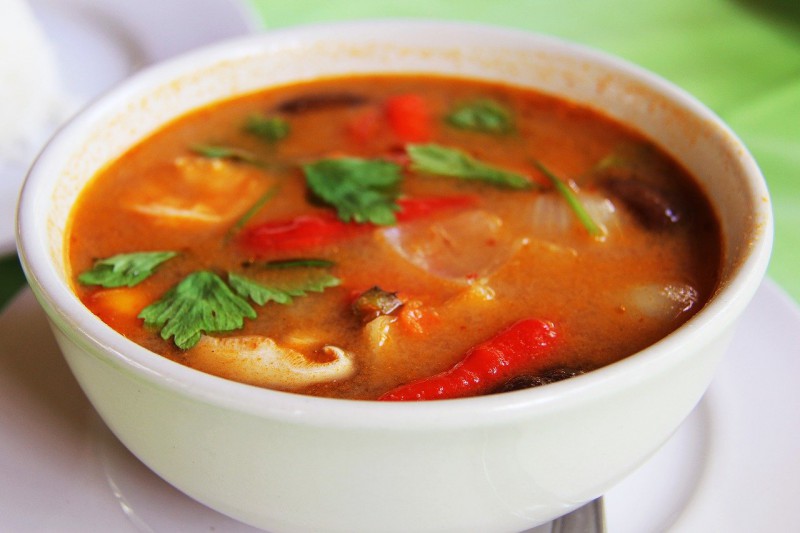 This one deserves a special spot on our list cause it's not a traditional Thai curry. Slightly sweet and the mildest of all the curries, this Indian-influenced dish includes potatoes and coconut milk. It gets its signature flavor from a mix of tamarin with roasted and finely ground spices.
An influence from the Muslim kitchen, Massaman has become a big hit and is listed as the most delicious Thai curry. Packed with flavors and scents from dried and fresh herbs, a traditional Massaman is beef curry with a thick, rich sauce, so delicious and well-rounded as it begs you to wipe your bowl with a good piece of toast.
2. Curries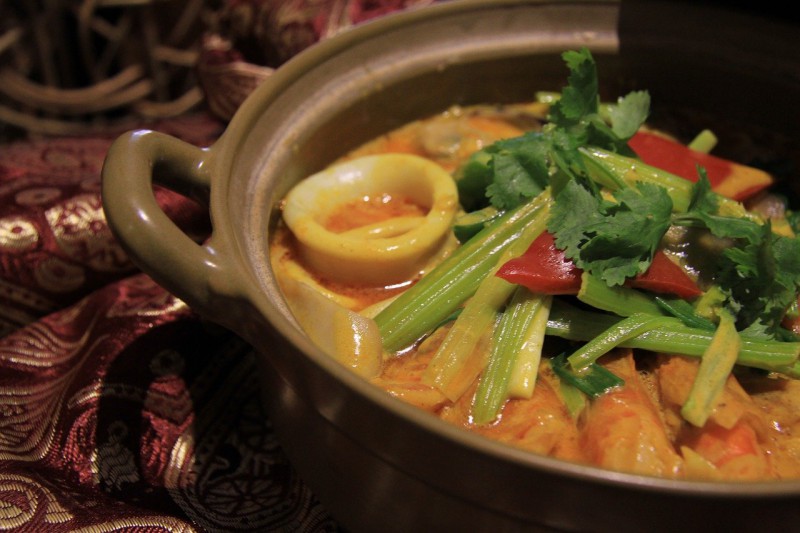 Perfectly balanced with a rich aroma, Thai curries are widely spread and with the right amount of spiciness for everyone. If you enjoy hot and spicy food, try the red curry with a bunch of red chili peppers. Excellently blended with a salty fish or eggs, it will make you burn inside but in a nice way. The unique scent of wild betel leaves mixed with a curry powder makes the yellow curry's distinctive taste. Flawlessly combined with fish, iron rich tofu, vegetables, chicken, or duck, it's usually served with rice.  
However, if you don't appreciate your food so spicy, go with green curry, since it's the mild one. The outstanding balance of green chili peppers, coriander seed, and cumin, blended with coconut milk's sweetness, balances the chilies' spiciness and gives it a creamy texture.
1. Noodles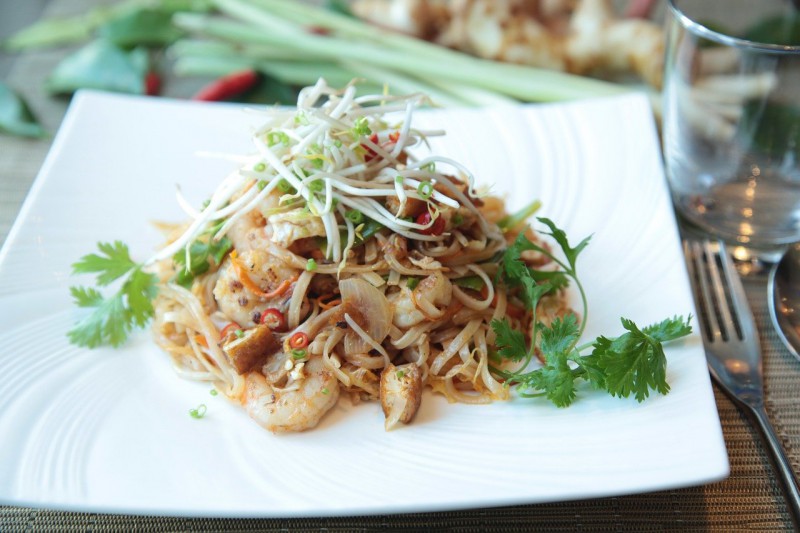 One of the favorite foods among Thai people surely is noodles. So many choices, from soups and salads to fried noodles, make it hard to pick our favorite dish. Therefore, let's just focus on the most famous one, as Thai Pad is loved worldwide. 
Imagine stir-fried rice noodles ideally blended with shrimps, eggs, lime juice, sugar, tamarind pulp, and bean sprout. This is an excellent harmony of taste enriched with some nice proteins (fish, chicken, pork, or tofu). In the end, you'll get a perfectly combined mixture of salty, sweet, and sour flavors.
As you can see on our top ten, Thai food is colorful and rich in taste. So if you happen to travel to Thailand, try as many different foods as possible. But until then, find online recipes, try to make it at home, or simply find the closest Thai restaurant.
Have you ever tried Thai food? What is your favorite dish? Please write to us in the comment section, as we would like to hear your thoughts.
Cover photo: terimakasih0/pixabay.com
---
Similar Articles