You might find it odd to even think about visiting sewage or catacombs, but many people love it! Numerous tourists see all these weird attractions every year, which are worthy of your time. So have fun with our top ten list of most bizarre tourist attractions around the world!
10. Père Lachaise Cemetery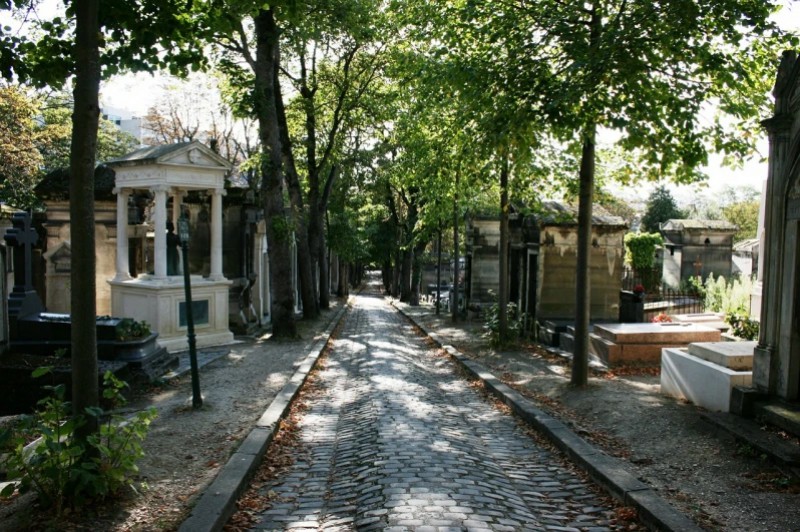 The oddest thing about this cemetery is that it's not too bizarre, so it barely earned a place on our list. Many graveyards attract tons of visitors, but we've chosen Père Lachaise Cemetery in Paris. Millions of tourists visit this place annually, making it the most frequented necropolis globally.
This location has been open since 1804 and still operates for burials. However, there is a waiting list due to a shortage of burial plots. To qualify, you must die in Paris or live in the capital for some time. Many famous people are resting here, such as Oscar Wilde, Honore de Balzac, Frederic Chopin, Molière, Alfred de Musset, Edith Piaf, Camille Pissarro, and Jim Morrison.
9. Avanos Hair Museum
To see this bizarre museum, you'll need to go to Cappadocia, Turkey. The story goes like this: over 40 years ago, a Turkish potter asked his friend, who had to leave Avanos, to give him something to remember her by. Fulfilling his wish, she left him a lock of her hair. He displayed this lock in his pottery workshop and told the story to all visitors. After that, female visitors gave him their locks of hair as well.
Today this place holds more than 16.000 locks donated by visitors. Once a year, they host a competition for the most beautiful locks displayed in the museum.
8. Toilet Theme Park, Suwon, South Korea
This is the Theme Park in South Korea celebrating toilets, as its founder was obsessed with them. After all, he was connected to them since birth - he was born in one. His obsession went so far that he made his house look like a giant toilet! After his death, his home has become a toilet museum and a theme park.
Of course, you can expect all kinds of urinals and different toilets here. And guess what, kids find it interesting! So if you wish to see tons of toilets or gigantic poop, pack your bags and go to Toilet Theme Park in South Korea!
7. Paris Sewer Museum - Paris, France
Now we are back in Paris, where they can make a tourist attraction out of anything. It would be quite a nightmare for us to think of going into a sewer, but how about you? This idea appealed to some people, so Paris opened the Paris Sewer Museum. Sewer tours started in 1889, and later they even built a museum dedicated to it.
Here you can find exhibits of sewer-maintenance equipment from the past and present. There are also mannequins of sewer workers in their gear. This museum is a functional sewer, so expect a smell as a free bonus during your visit!
6. Island of the Dolls, Mexico
La Isla de las Muñecas or Island of Dolls is full of dolls hanging from the trees. One of the top dark tourism destinations started when the island owner hung the dolls in 1950, believing they would protect him from evil spirits. According to the legend, he found a drowned girl and began to hear her voice saying, "I want my doll."
After that, he discovered a doll and hung her to silence the girl's spirit, but as the voice was still there, he hung more and more dolls. This place is creepy due to hundreds of hanging figurines covered with cobwebs and insects. Today this location attracts visitors who also hang dolls while claiming they are whispering, moving their heads, or opening their eyes.
5. Wang Saen Suk Hell Garden - Saen Suk, Thailand
Wang Saen Suk Hell Garden is a Buddhist temple in Thailand known as Thailand Hell Horror Park. Maybe the most bizarre thing about it is that this location attracts a lot of families. Is there a more satisfactory way to spend the afternoon than to take your children to see bodies torn apart by hell dogs or boiled in copper cauldrons?
Here you can find all sorts of gruesome punishments for the sins done on Earth. Wang Saen Suk represents Buddhist hell, where all crimes must be paid for. Still, there's also a more peaceful part with the giant Buddha. These are great bedtime stories but something other than what Disney had in mind. We'll stick with Disney!
4. Soviet Bunker Tour - Vilnius, Lithuania
Back to the USSR! Visit the Soviet Bunker and explore the way of life during the Cold War and the Soviet form of cruelty. If you prefer to experience it firsthand, you can participate in the 1984 Survival Drama. Think of being stripped from your belongings as you receive the orders and instructions to follow without any objection.
If your dream is to be guarded by soldiers and German Shepherds, come to the Soviet Bunker. Be prepared; if you disobey orders, you may have to get psychological or/and physical punishment. So pack your bags and enjoy the retribution!
3. Iceland's Phallus Museum - Reykjavík, Iceland
Suppose you wish to see the world's most prominent display of penile parts and penises. In that case, you should definitely visit Reykjavik and Iceland's Phallus Museum. 
Since its foundation in 1997, the museum has collected more than 300 penises from more than 100 mammals. The largest one is the 170 cm (67 in) front tip of a blue whale penis, and the smallest one is a hamster's 2 mm (0.08 in) baculum. Lately, the museum has been moved to a bigger place because it needed more space to display all the penises.
2. Karni Mata Temple, India
Karni Mata Temple looks like a typical Indian Hindu Temple, so it seems like there's nothing strange about it. However, you'll change your opinion when we tell you that this place is better known as the Temple of Rats. If you think there are many rat sculptures, drawings, and whatnot here, think again!
This temple is home to approximately 25,000 black rats! The "kabbas" is the name they call holy rats here, and if they take a bite of your food, you will be blessed! So share your food with rats - don't be stingy. Also, guess what? You can only enter barefooted, so you can enjoy having rats running over your skin. Many people travel a long way to pay respect to them.
1. Capuchin Catacombs - Palermo, Italy
Okay, to us, this is by far the worst place! This is not just bizarre and spooky but also a morbid tourist attraction. In Sicily, Italy, behind the doors of Capuchin Monastery, you can visit actual catacombs with 8000 corpses and 1252 mummies. They are everywhere, hanging from the walls or sitting on benches. They are divided into categories: Priests, Monks, Men, Women, Children, Virgins, and Professionals. 
The oldest mummified body is from 1599, while one of the last buries was in the 1920s, a baby girl nearly two years old. Indeed, this is not everyone's cup of tea but go for it if you like it. To us, this is too creepy!
Hope you have liked our top ten most bizarre tourist attractions in the world. Have you ever visited some bizarre places? Feel free to add your story in the comments section.
---
Similar Articles