As Frank Sinatra sang, "Start spreading the news, I am leaving today, I want to be a part of it, New York, New York." It's your first city break in New York, and you need help figuring out where to go? Don't worry; we have a few tips for newcomers to help you discover the best of New York City. We're sure that everything will look familiar once you step down into Manhattan – the most famous part of New York City. This magical city is probably the most picturesque in the world and the location of many series and movies. So let's start this top 10 things to do in the New York list - just make sure not to break any weird local laws.
10. Getting Around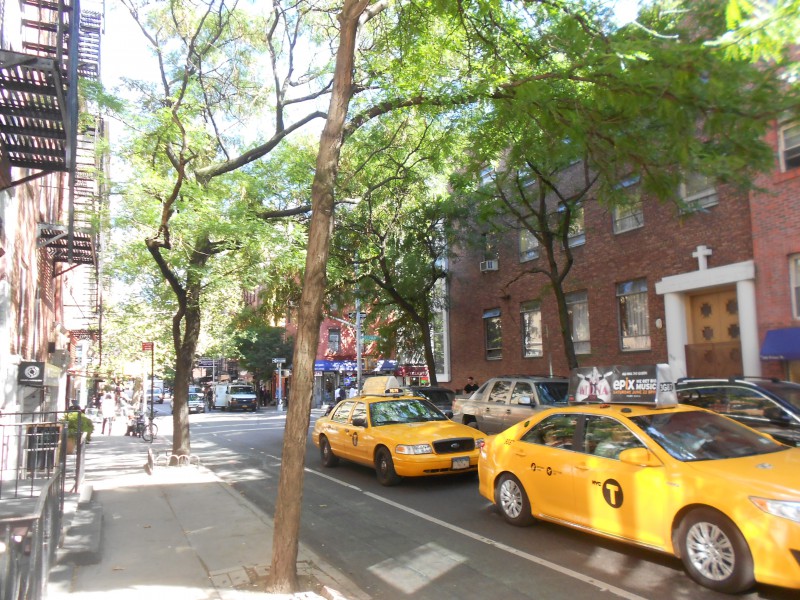 If you're lucky and have nice weather while visiting NYC, we highly recommend moving on foot. Manhattan is walkable and full of exciting stuff to see, and when you get tired, rest in some café or park.
The second option is public transportation. It's cheaper to ride a metro, but taking a yellow taxi is more iconic. Still, we must warn you about the traffic in NYC, as jams are quite often. Here's a tip regarding transportation: take a free ferry ride to Staten Island and get a marvelous view of Lower Manhattan, the Statue of Liberty, and Ellis Island, as it passes right by it.
9. Meatpacking District, SoHo & West Village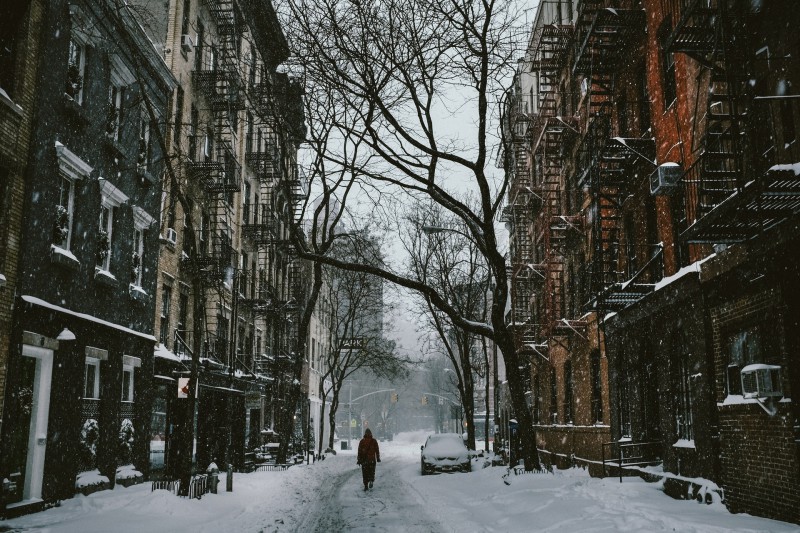 Meatpacking District was previously a place of meatpacking plants and slaughterhouses. Today, it overlooks the Hudson River and is home to high-end fashion boutiques, clubs, and trendy restaurants. SoHo (South of Houston Street) is the Meatpacking district's next-door neighbor attracting a fashionable and artistic crowd. Thus, it's packed with high-end art galleries and designer shops. The neighborhood is also home to the trendiest nightclubs.
The West Village is crowded between SoHo and Meatpacking District and has trendy spots and designer stores. The charm of this part of NYC is in 19th-century cobblestone streets and townhouses.
8. Financial District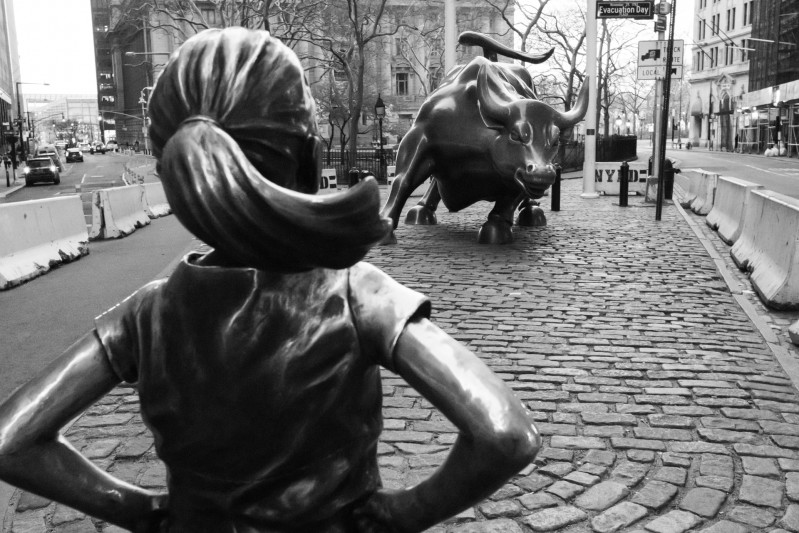 The Financial District, or Lower Manhattan, is the southern tip of Manhattan Island. This is home to famous institutions, including the Federal Reserve Bank of New York and the Stock Exchange. You'll find Wall Street and its symbol, the Charging Bull, among the skyscrapers.
After working hours, business people move to the Seaport District and its fine-dining restaurants. However, FiDi (short for Financial District) attracts first-time visitors to take a picture of the Statue of Liberty and the 9/11 Museum. At the tip of FiDi is Battery Park, a starting point of ferries to Liberty and Ellis Island.
7. Chinatown & Little Italy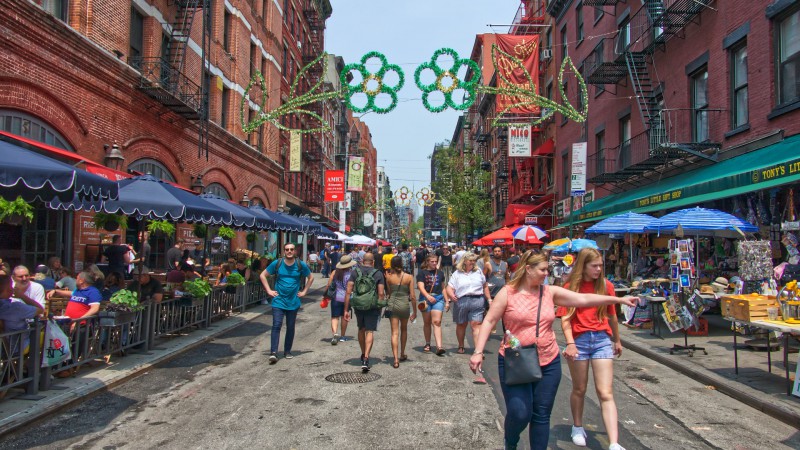 Chinatown neighborhood is vibrant, crowded, and full of souvenir shops. However, tourists visit this part of the city to eat, as it's full of Chinese and Southeast Asian restaurants. Manhattan's Chinatown is densely populated and the biggest in the USA.
Just north of Chinatown is Little Italy, a long time ago populated by Italian immigrants, and today a tourist attraction. Like Chinatown, Little Italy is full of souvenir shops, restaurants, and tourists. This part of the city is famous as a set for many popular mafia movies. However, the Godfather novel and the movie about the fictional Corleone crime family stand out.  
6. Chelsea & The High Line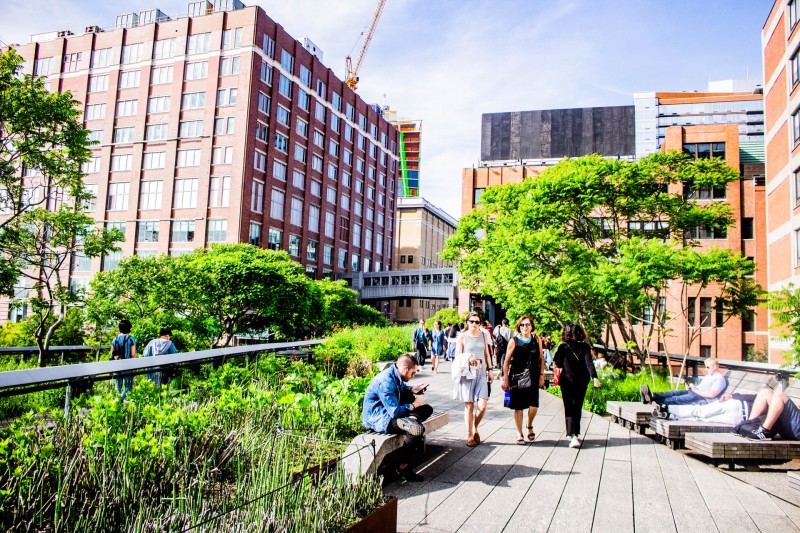 Chelsea is a part of New York City, most famous for its art galleries. Chelsea's west border is the Hudson River, which offers many sports activities on the piers. Populated mainly by the members of the LGBTQ+ community in the past, modern Chelsea is full of bars, restaurants, and nightclubs. Visiting them in the evening is one of the most fun things to do in New York.
Among art galleries and eating places most visited is High Line Park. This is the abandoned elevated rail line converted into a park with beautiful city views. The High Line starts at the Meatpacking district, goes through Chelsea, and ends on 34th street. Walking along the High Line and its 1.45-mile route, you can see the Chrysler Building, the Statue of Liberty, and the Empire State Building. These are some of the most beautiful places in New York City.
5. Bryant Park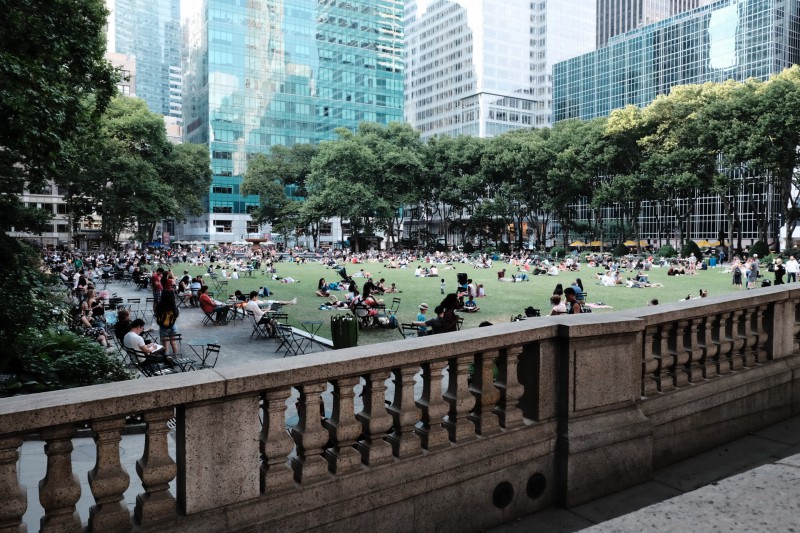 Known as Manhattan's Town Square, and settled in Midtown between Fifth and Sixth Avenue, Bryant Park is beloved by visitors and New Yorkers. The Park is home to Winter Village, one of the famous New York attractions with an ice skating rink and many shops during the winter. During the summer days, it's a favorite lunch spot for working people.
Surrounded by skyscrapers and the Public Library, Bryant Park is an oasis of peace and tranquility with beautiful lush gardens. One of the park's main attractions is the Fountain Terrace, with the pink granite Josephine Shaw Lowell Memorial Fountain. Opposite the fountain is the Upper Terrace with William Cullen Bryant Memorial.
4. Grand Central Terminal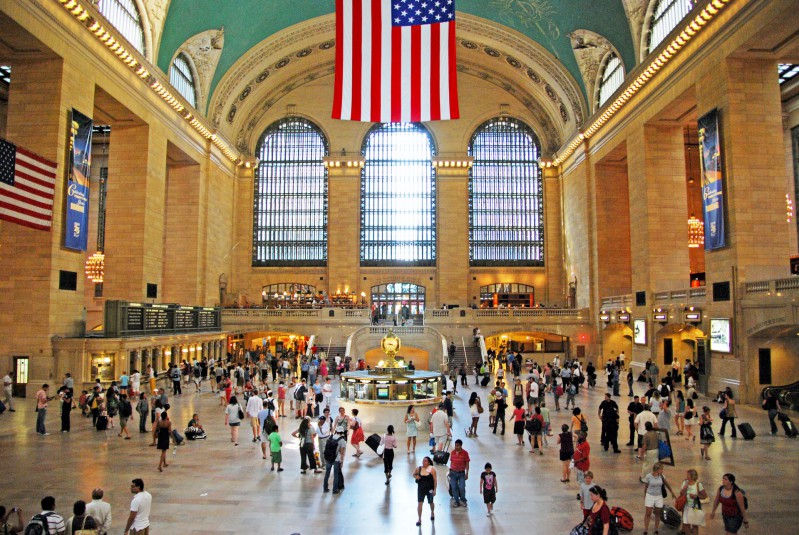 You might feel like you had visited the Grand Central Station before, as it appeared in many movies. This beautiful building from the early 1900s represents one of the most visited landmarks globally. The impressive construction has remarkable treasures you might want to take a closer look at. Firstly, we recommend checking the opal clock above the information booth. Incredibly accurate, this clock is worth approximately $20 million.
Secondly, Grand Central has one more famous clock, yet for this one, you'll have to go outside to the main entrance at 42nd Street and Park Avenue. This clock dedicated to Greek Gods is the world's largest example of Tiffany glass. Thirdly, visit the whispering gallery, which is so acoustic that you can talk to someone on the opposite corner. Finally, remember to look at the marvelous zodiac ceiling in the main hall painted with golden leaves.
3. Times Square, Broadway District & Hell's Kitchen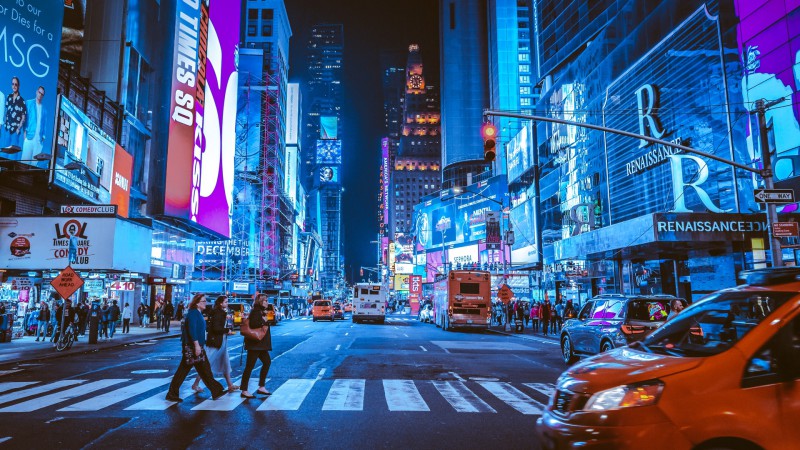 Picturesque Times Square is commonly associated with NYC. This is the busiest pedestrian area in the world, full of lightning billboards. It's also one of the most visited attractions in the city, as 330,000 people cross it daily. Times Square hosts major events, including the New Year's Eve ball drop.
This is a great starting point for investigating the Theater District, as you can buy tickets for the show there. Moreover, the famous Broadway, known for many theaters and cinemas, intersects Times Square. After exploring these areas, people often move to Hell's Kitchen next door, named after its infamous past. Way back, Hell's Kitchen was known as a place of crime and brutal murders, yet today is full of pubs, bars, and restaurants.
2. Brooklyn Bridge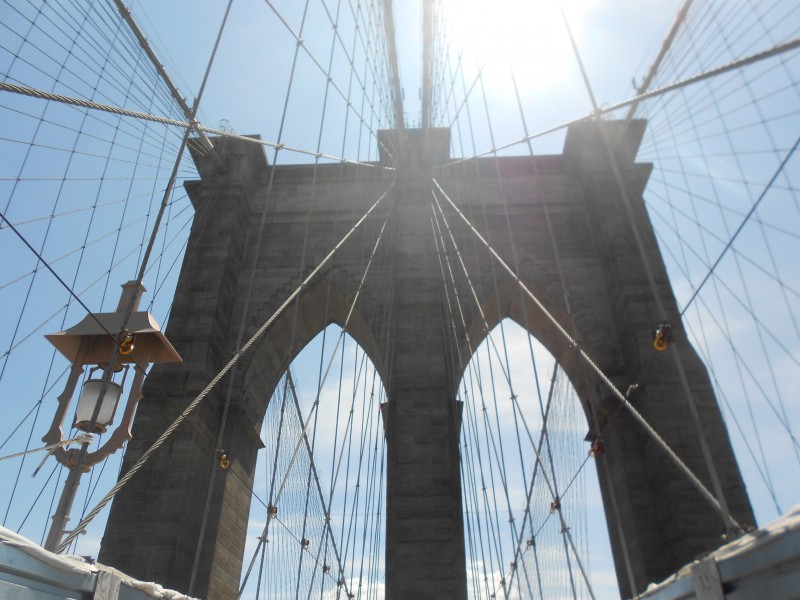 The Brooklyn Bridge from the 19th century spans the East River connecting Manhattan and Brooklyn. This gorgeous cable suspension bridge was the first to use steel for cable wires and the first fixed crossing across the East River. This is one of the best free things to do in New York!
Lifted above six lanes of automobile traffic is a pedestrian and cyclist promenade. It takes about half an hour to walk over the 1.1 miles long bridge if you are a tourist because of the beautiful views.
1. Central Park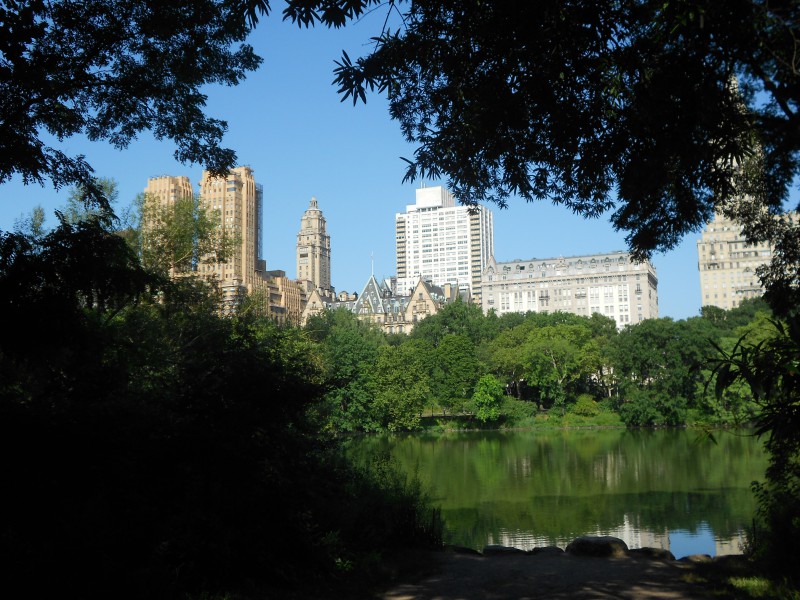 Famous Central Park is a green sanctuary for many New Yorkers. It is located between the Upper East Side and Upper West Side of Manhattan. Construction of the park began at the end of the XIX century, making it one of the most visited tourist attractions worldwide.
Beautiful Central Park is attractive during the summer as a place of recreation or an area to lie down on the grass and rest. During the winter, take a romantic carriage ride through it. Moreover, you can spend a whole day exploring Central Park and discovering its unique charm.
If you enjoyed our things to do in New York for free list, you might want to check out our top ten museums and astonishing views in New York City you don't want to miss. As we started with the lyrics, let's end this piece about magical New York with the R.E.M.'s "Leaving New York is never easy." We're sure you'll fully understand the words once you visit it.
Have you ever been to New York City? What were your first impressions? Please write to us in the comment section, as we would like to hear your thoughts.
---
Warrior92

Says:

Central park is something special. I love it in the spring as there's a lot going on.
Similar Articles